St Regulus, Cromarty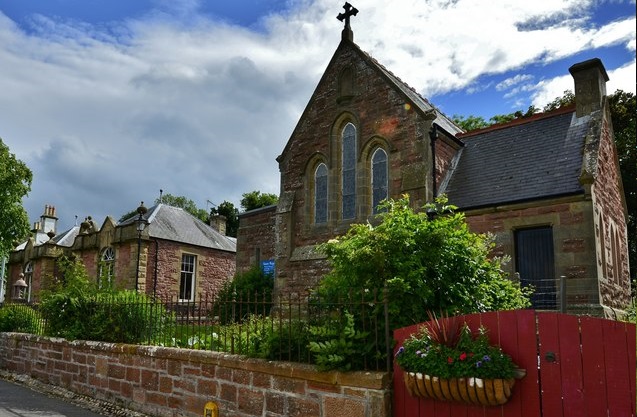 St Regulus began as a Mission from Fortrose in 1877 under the dedication of 'All Saints', with the people meeting for worship in the County Buildings.
The foundation stone of the church was laid in 1904 and the building completed in 1906. The new Gothic church was dedicated 'All Saints'. Some time later the dedication was changed to 'St Regulus and All Saints', then to 'St Regulus' alone, as a condition for receiving a generous legacy!
There are two fine memorial windows by Sir Ninian Comper: on the north wall of the Risen Lord with his followers (in memory of the Rev Albert Chadwick – depicted kneeling in one of the windows – Priest-in-Charge before St Regulus' was joined with Fortrose); the other is of St Francis of Assisi with locally-found animals – a fox, a lamb, a rabbit and a cairn
terrier at his feet.
Comper's famous 'signature', a strawberry, can be seen in the corner of each of these windows. The Lady Chapel (through the door to the right of the high altar) is in what would have been the base of the tower, had finances been available to build it.